---
Omega Arm | Omegian Language | Wild Omega Dialect | Bribe | Omegians | 2nd Omegian Imperium | Omegian Army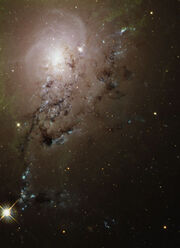 Location
Edit
Universe-->Basilicus Prime Cluster-->Gamtor Galaxy
The Gamtor Galaxy is approximately 18 billion GYs old.
The Gamtor Galaxy is a Starburst galaxy, an unusual type of galaxy.
The Gamtor Galaxy is 900 million holds. It holds about 100 trillion stars in which 45% are orbited by planets with sentient life.
Civilizations
Edit
The Gamtor Galaxy holds mainly empires, and commonwealths.
Statistics
Edit
Common Name:Gamtor
Scientific Name:Gamma 12A
Features:Revolves around a black hole that is constantly moving. Forms 3 main arms: Alpha, Gamma, and Omega.
Sentient Species
Edit
Star Systems
Edit
None as yet to be discovered.
Languages
Edit
Main Governments
Edit
All items (3)
Community content is available under
CC-BY-SA
unless otherwise noted.