---
---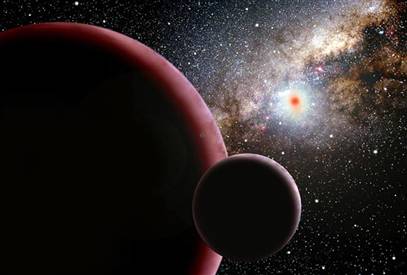 This planet was colonized by the Aedor System of the Kirr Sector

When the Antheonic Ring was found, many Clans refused to go through but in the end the Kirr-ej clan beacme the first, they bio'd the Ring so that the child on it could keep it nearby, they did this on the other ring too, then about a cycle later Aedora was founded in the Hrakki System
Refer to the Aedor System for details about the Kirr and Aman.
the Hrak Ring and the Nicca Ring connect two of the Solar systems controlled by the Kirr, the Aman were banished through the ring to a random location, they are wandering in Cryo through the Darkworlds Sector
This Star System is part of the Kirr Empire
Planetside
Edit
A small farming colony has been set up on Hrakk III's moon, since Hrakk III is a gas giant. The farming operation produces surplus food for the moon Nicc of the Home Planet--or Aedor II--since Nicc is a moon without an atmosphere. there is also a Spawning Center, since studies have shown a queen cannot stay in space long, ecxept in cryo.
There are a few natives, but only class C, and they keep to themselves
SPACEPORT A-3 or The Nicc
Edit
Spaceport A-3 'The Nicc' is the moon's personal space station, it serves as a base of operations for all shipping in the Hrakk and Aedor Systems, and also all ships launch from there, it has many hotels for travelers, though there have been not many, and even a zoo with every animal obtainable, and some genetically altered carnivorous monsters for the petting zoo, there are schools, colleges, a full copy of the Library of Aedor in Hive-Aedor, and a monitoring station for all wavelengths of transmissions, it is also geostationary in orbit, directly over the Base. it is powered with four hundred enormous solar panels.
SPACEPORT A-2 or Portering
Edit
This is a very small spaceport, like A-3 it has a Spaceship Slingshot, but it only needs 100 solar panels, it has a large comuter bank but that is all mainly for monitoring the Ring. You must register yourself to use the rings. A program was set into the ring to send warning, and await a response before letting anyone through any of the two rings used by the Kirr.
Natives; the Kajj
Edit
The Kajj are the sworn Defenders of Darkness, black feline creatures the size of lanrge rodents, they have long ears with white tufts, and long graceful tails, they have six legs and walk on six usually, but when handling an objcect they lift up their first two, only their front paws have opposable thumbs, and they have retractable claws on all paws
they now control most of the continents and land except for a small breeding-base of the Kirr
All items (3)
Community content is available under
CC-BY-SA
unless otherwise noted.